Personalized Swiss-Based
Wealth Management
for North-American Investors
Asset Managers with a Personal Touch
Hyposwiss Advisors SA is a wealth management company founded in March 2011 and based in Geneva, Switzerland. The company is fully-owned by Hyposwiss Private Bank Genève SA and a member of the Hyposwiss Group.
Our purpose is to offer financial advice and portfolio asset management services to North-American investors, in the US and Canada, who wish to have a Swiss-based institution manage their assets.
Our aim is to build and maintain a trusting partnership with our investors to ensure asset growth for future generations.
Our value added is to construct a balanced portfolio tailored to the investor's specific requirements making use of diversified financial instruments.
Investors' assets are deposited with international banks serving as qualified custodians.
Hyposwiss Advisors seeks to perpetuate the capabilities of the Hyposwiss Group in serving its North-American clientele with a high standard of quality coupled with strong and active personal relationships.
Independent Asset Management
The Investor – The Custodian Bank – The Asset Manager

Over the last 50 years, independent asset management companies have emerged in the global financial marketplace.
A Triangular Relationship: Energy, Productivity, Creativity
Independent asset managers are playing a new major role as intermediaries between the banks and the investor on a private and institutional level.
Hyposwiss Advisors SA, as private wealth manager, brings a high standard of professional expertise enhanced by its long-standing Swiss private banking roots.
The result is a triangle: the traditional symbol of energy, productivity and creativity.
The Bank: The Investor's assets are on deposit with international qualified custodian banks.
The Asset Manager is given a discretionary mandate to manage investment portfolios entrusted to it.
The Investor's individual requirements are directly addressed by the Asset Manager's advisory skills.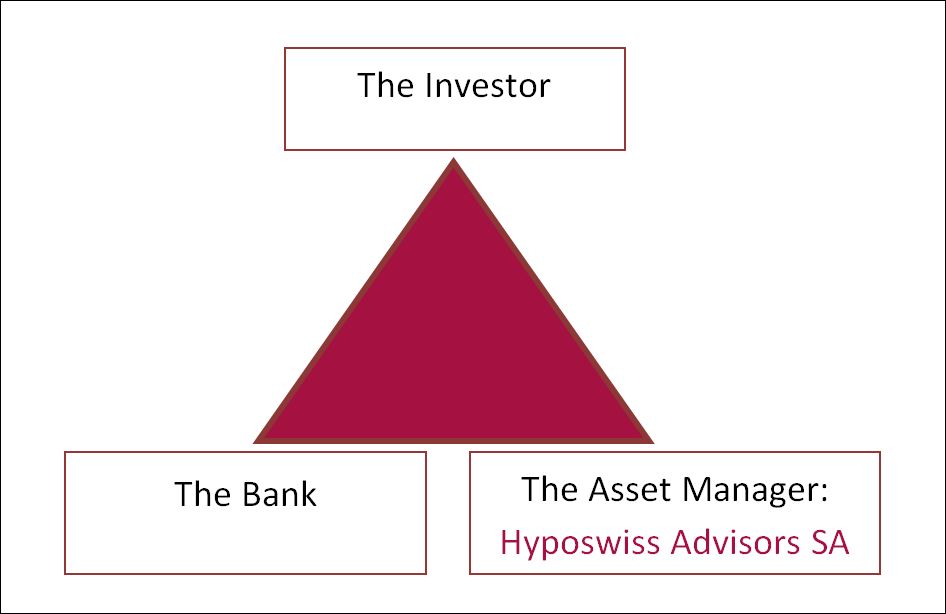 Regulation / Audit
Switzerland
Hyposwiss Advisors SA is licensed by the Swiss Financial Market Supervisory Authority (FINMA) as Portfolio Manager and is monitored by the supervisory organization Organisme de Surveillance des Instituts Financiers (OSIF).
Public information is available at: https://finma.ch/en/finma-public/authorised-institutions-individuals-and-products/
United States SEC Registration*
Hyposwiss Advisors SA has been registered with the US Securities and Exchange Commission (SEC) as an Investment Adviser since 2011.
Public information is available at: www.adviserinfo.sec.gov
Canada CSA Registration*
Hyposwiss Advisors SA has been registered with the following provincial authorities as a Portfolio Manager:
Ontario Securities Commission (OSC)
Québec Autorité des Marchés Financiers (AMF)
Alberta Securities Commission (ASC)
British Columbia Securities Commission (BCSC)
Public information is available at: www.securities-administrators.ca
Auditor
PricewaterhouseCoopers SA (Switzerland)
*Registrations with the United States SEC and the Canadian Administrators do not imply a certain level of competence, education, skill or training. The protections of the US and Canadian rules and regulations are only available to residents of each country, province or territory.
Why a Swiss-Based Institution?
Switzerland
Economic and Political Stability
Low Public Indebtedness
Highly Efficient Modern Infrastructure (Information
Technology – Communications – Transport)
Network of Financial Services Providers
Quality and Continuity of Advisers
Professionalism, Know-How and Experience
Reliability and Credibility
Reputation and Competence
Trusting Relationships with Investors
Asset Management
Swiss Private-Banking Tradition
Global Diversification of Assets
Transparency
Client Protection Rules: subject to applicable local laws and regulations (USA, Canada and/or Switzerland)
Access to Independent International Investments
Open Architecture
Cost-efficient Performance
Mission Statement & Charter
Charter
Founded by families with a strong tradition in banking and finance, we are asset managers specialized in private wealth management. All our initiatives, guided by over 60 years of banking experience, have led us today to our new institutional status, proof of our deep commitment. The professionalism and strong financial base of our Group, have earned us the respect of our peers in the banking and financial community. Our international private clientele is demanding. Our investors rely on us and identify with us.
It is essential for us:
to maintain a family majority in our ownership, strengthened by associates who share the same values
to show that the structure of our shareholding is synonymous with stability, reliability and continuity
to create an optimal working environment so as to motivate each and every member of our professional staff
to seek constructive development opportunities rather than growth at all costs
to have a longer-term asset growth perspective which will provide financial security for our clients from generation to generation
It is essential for us:
to build and maintain a trusting partnership with clients
to offer through our investment advisor status, all the advantages of an institution specialized in Swiss private wealth management for North-American investors
to be flexible and sensitive with regard to our structure from a human standpoint
to use our varied capabilities wisely so as to prudently create added value for our clients
to serve as the preferred adviser of our clients rather than an ordinary service provider
to take the necessary time to dedicate personal attention and provide tailor-made solutions
to respond to clients on a timely basis
to manage professionally the long term growth of the assets that are entrusted to us
to put the investors' interest ahead of our personal interests
It is essential for us:
to find individualized, creative and performing solutions
to display reasoned imagination
to be receptive to new developments in financial products
to manage risk in accordance with the laws and regulations governing our profession
to work in an ethical and loyal manner
It is essential for you:
to recognize the benefits of a stable and trusting relationship, proof of our commitment and long-term vision
to understand that our independence offers you a unique access to a large universe of investment opportunities
to benefit from access to services over and above ordinary advice
Our Team
Board of Directors
Mr. Alain Bruno Lévy, Chairman of the Board
Mr. Michel Broch, Secretary of the Board
Mr. Jack Mooallem, Director
Management
Mr. Elio Barzilay, General Manager
Mr. Alexandre Berenguier, Member of Management
Wealth Management & Operations
Mr. Daniel Jakobovits, Head of Investments
Mr. Paulo de Almeida, Portfolio Manager
Mrs. Sabine Nyfeler Tuti, Wealth Management Assistant
Mrs. Aleksandra Kargina, Wealth Management Assistant
Mr. Vlad Popa, Head of Operations